MEHALAH
A Story of the Salt Marshes


by
S. BARING-GOULD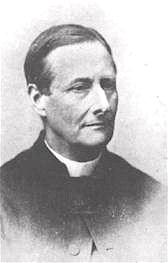 The Reverend Sabine Baring-Gould (1834-1924), was one of the most remarkable literary figures of his age. Theologian, hymn-writer, archaeologist, folk-song collector, poet, hagiologist, historian, antiquarian and novelist, he was responsible at one time for more books in the British Museum Library than any other author. Mehalah: a Story of the Salt Marshes (1880) was one of his first novels and created something of a sensation, being compared by Swinburne to Wuthering Heights: if it had not been followed by thirty others, distinctly inferior, Baring-Gould might well today enjoy a greater reputation than he does. Nevertheless, though nowadays largely forgotten, Mehalah remains an astonishing achievement: could this grim tale really have come from the pen of the man who wrote "Onward Christian Soldiers" or the 16-volume Lives of the Saints? As rector of East Mersea from 1871 to 1881 Baring-Gould got to know well the marshland and riverscape that he describes so hauntingly, and it may be that some of the characters - for example the potato-loving Mersea parson, or the strange Mrs. de Witt - were based on observation of his neighbours and parishioners. However, much of the book seems to well up from uncontrolled and possibly uncontrollable internal impulses, whether in the portraits of the proud and defiant but in the end defeated Mehalah, and the sadistic and passionate Elijah Rebow who keeps a mad brother chained in a cellar beneath his house, or in the radical misogyny that leads the author to write "Generosity, pity, charity are unknown quantities in the feminine equation."
Arthur Ransome certainly knew Mehalah, but it is difficult to determine how much influence had on him. Christina Hardyment in Captain Flint's Trunk recommends the book as having much of the 'cannibal atmosphere of Secret Water', and Mehalah herself has features in common with Nancy Blackett both in dress (eg the red cap and the boyish clothes) and in behaviour (see, for example, the splendid scene in Chapter VI where she throws overboard her rival for the affections of George de Witt). Perhaps it is best to recommend the book on its own merits (with a warning that it is not for the very young or faint-hearted) and let the reader decide on questions of influence.
A dramatic adaptation of Mehalah by Peter Horsler was presented by the Clacton Amateur Dramatic Society in 2000 as its Millennium production.
There is a flourishing Baring-Gould Appreciation Society for admirers of this writer.
I am grateful to Dave Sewart for scanning the text of Mehalah.