One morning last winter to Holm Bank there came
A noble, brave sportsman, Squire Sandys was his name,
Came a-hunting the fox, bold Reynard must die,
And he flung out his train and began for to cry,
Tally-ho, tally ho! Hark forward away, tally-ho! The season being frosty, and the morning being clear,
A great many gentlemen appoint to meet there;
To meet with Squire Sands with honour and fame
And his dogs in their glory to honour his name.

There's Gaby the huntsman with his horn in his hand,
It sounded so clear and the dogs at command,
Tantive! Tantive! the horn it did sound,
Which alarmed the country for above a mile round.

It's hark dogs together, while Jona comes in,
There's Joyful and Frolic, likewise little Trim,
It's hark unto Dinah, the bitch that runs fleet,
There's neat little Justice, she'll set 'em to reet.

There's Driver and Gamester, two excellent hounds,
They'll find our bold Reynard if he lies above ground;
Draw down to yon cover that lies to the south,
Bold Reynard lies there, Trowler doubles his mouth.

Three times round low Furness they chased him full hard,
At last he sneaked off and through Urswick churchyard,
He listened to the singers as I've heard them say,
But the rest of the service he could not well stay.

The dogs coming up made Reynard look sly,
Then he marked out his tricks for to give 'em the by;
They being bred to their business they managed their cause
And they made him submit to their attention close.

Through Kirkby and Woodland they nimbly passed,
Broughton and Dunnerdale they came to at last.
Then down across Duddon to Cumberland side,
And at Grass-gards in Ulpha, bold Reynard he died.

Since Reynard is dead he'll do no more ill,
He hadn't much time for to make a long will,
He has left all his estate to his survivor and heir,
He has a right to a widow for she'll claim her share.

Of such a fox chase as never was known,
The horsemen and footmen were instantly thrown,
To keep within sound didn't lie in their powers,
For the dogs chased the fox eighty miles in five hours

You gentlemen and sportsmen wherever you be,
All you that love hunting draw near unto me,
Since Reynard is dead, we have heard of his downfall,
Here's a health to Squire Sandys of High Graythwaite Hall.
Tally-ho, tally-ho! Hark forward, away, tally-ho!

Edward Thomas gives the name of the squire as 'Sands'. In his extract from the song in Swallowdale Ransome gives the correct spelling shown above.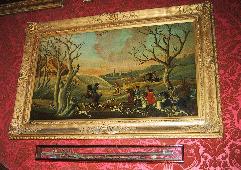 The Holm Bank Hunt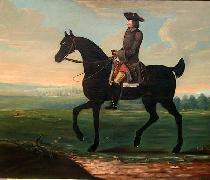 Thomas Sandys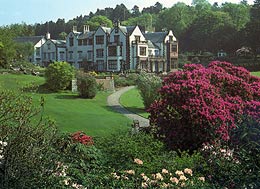 Graythwaite Hall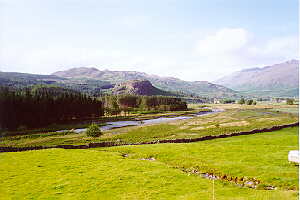 River Duddon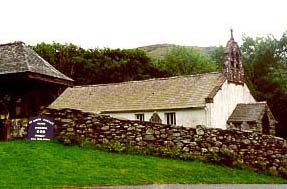 St John's Church, Ulpha