CHAPTER VII
THE FRISIAN ISLANDS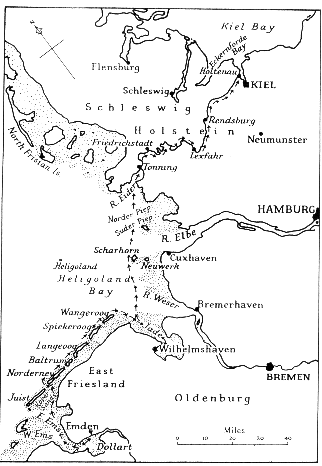 THE DOLLART TO KIEL
DELFZYL is an uninteresting little seaport, and I had seen all I wished to see of it in half an hour, so I decided to sail across the bay of Heligoland to the Eider river at four on the following morning. But the elements would not have it so, and we remained here weather-bound for six days. I was impatient at this waste of time, but it would have been madness to have attempted a long voyage on this dangerous coast with a stormy north-west wind blowing in our teeth.
Delfzyl is protected from the sea by a lofty grass-grown dyke. Outside this is the harbour, from which the roofs only of the town are visible. We lay alongside an old hulk, on board which lived a man, his wife, and a large family of children. The youngsters took the very greatest interest in us during our stay, and almost wept when we went away. At first they were shy, but we introduced ourselves on the morning after our arrival by presenting one of the boys, a sturdy little chap of four, with a piece of bread and marmalade. His brothers and sisters crowded round him. He stood holding the unfamiliar food in his hand, eyeing it suspiciously, afraid to taste it, till his elder sister, a pretty flaxen-haired girl of seventeen, timidly bit off a mouthful to reassure him, and, having expressed her approval of this new luxury, returned it to him. He had acquired a very decided taste for marmalade before we sailed.
An acquaintance having been once struck up, these children would never let us alone. The rigging of toy boats, the repairing of hoops and dolls for them, and the supplying of jam and biscuits became no unimportant portion of our day's work. The smallest boy became a nuisance; he used to rise at daybreak and awake us with loud cries of "Ma-an, ma-an!" in order that we might play with him. We, of course, quite won the heart of the plump mother of the brood, who brought us frequent presents of milk and eggs. The eldest daughter was very anxious to acquire our language, and, as she leant over the bulwarks of her floating home, would point to various articles and ask the English names for them. She acquired a long vocabulary in those six days.
Besides these we picked up several friends among the English-speaking ex-sea-captains, who, as publicans and store-keepers, composed the aristocracy of Delfzyl. Two of these were nearly always with us; they often stayed out late at night in order to converse with us, and succeeded in making the innocent Falcon a terror to their wives, who were no doubt very glad when the English yacht sailed away and so left their husbands to fall back again into the old domestic groove. Both of these rollicking dogs were dreadfully henpecked, but each, unconscious of his own thraldom, chaffed the other mercilessly on the subject, and each would tell me in private of the other's pusillanimous obedience to his vrouw. One of these old sailors kept an inn, cultivated a farm with his own hands, and supplied coasting steamers with coals, so was an exceedingly busy person, though he did contrive to waste so much time with us. The other, a portly gentleman, was water-clerk to a firm of ship-brokers. His duty consisted of standing on the dyke and gazing seaward through a long telescope for vessels that never came — at least none came while we were there — but he was still busier than the other, and when he called on us he insisted on hurrying away every five minutes to his post of observation for another inspection of the deserted offing. There was only one square-rigged vessel in the harbour, an Italian barque from Pensacola. Her chain was padlocked to a buoy, as she was detained by the authorities for some offence or other against Dutch law. Her skipper, a pleasant young Neapolitan, also joined our circle.
For days the rain fell in torrents and the north-east wind howled across the sea and the flat lands. Occasionally the glass would rise a little and the weather show signs of improvement, but only for a few hours, then down would drop the mercury again and the wind would freshen to a gale. "It's almost like the north-east trades here," said one old skipper to me; "the wind is generally in this quarter with us from March till August"—which was not an encouraging bit of information for us.
Thanks to my friends, the time passed cheerily enough despite the foul weather. One evening the two henpecked Dutchmen sneaked away from their wives and took me for a walk along a straight road, very carefully paved with red bricks and bordered by broad ditches, to the neighbouring village of Appingedam, an ancient place with narrow canals over which hang some very picturesque old gabled houses. They brought me to the parlour of an antique tavern whose walls were panelled with carved oak black with age. It was just the quaint hostelry one sees in the old Dutch pictures, and the Dutch roistering after the good old style was not wanting.
Chief of the cronies here assembled over long pipes and brimming mugs was the village doctor, who was just such a man as one would expect a Dutch doctor to be — stout, pedantic, and jovial. Here, too, was another character, a wild old sailor, quite six feet and a half in height and broad in proportion. He had served on many a British ship and spoke English well. He was now dressed rather smartly in tweed dittos; for a small fortune had recently been left him and he was running through it, so he said, at the rate of fifty shillings a day. The Italian captain had offered to ship him as carpenter at five pounds ten shillings a month, but he refused this.
"I won't go to sea as long as I have a stuiver left," he said. "That's my way. When I've spent all my money I'll go to Cardiff and ship for what I can get, but not till then."
He was the only thriftless Dutchman I came across. He had mixed so much with the British shell-backs that he aped their reckless ways. But like most imitators he overdid the thing and practised in a deliberate fashion, which spoiled all the effect, what poor Jack does out of the natural devilry of his disposition. He had picked up a great fluency of profane language in our ports; if his native Low Dutch was lower than his English it must have attained great depths.
My friend who combined the avocations of publican, farmer, and coal-merchant, took a great fancy to our dinghy. We sailed about the inner harbour together, and he was astonished at her speed under canvas. "She sails like a man," he cried repeatedly. So enamoured did he become of the boat, that he did his utmost to persuade me to sell her to him. True Dutchman that he was he did not care to part with his money, but he offered me a variety of his possessions in exchange for her. He proposed to fill my lockers with gin and beer, and, finding this did not tempt me, he proffered me a large musical box. Fowls, sheep, and potatoes I could have acquired in profusion had I chosen; but I would not part with the dinghy, knowing that I could not have found another that would have suited my purpose.
Even the pleasures of Delfzyl began to pall on us, and we anxiously watched the glass and sky for a sign of weather sufficiently fine to allow us to sail away. On the 26th it blew harder than ever. Furious rain squalls swept across the sky, and a heavy sea was rolling into the bay so that the yacht tumbled about a little even in the sheltered harbour. As I sat in the cabin after breakfast smoking, in despair and wondering whether we should ever get farther that summer, a happy idea occurred to me — why not occupy this idle time by once more trying to discover where that mysterious leak of ours was situated? For the leak, though I have not alluded to it lately, was as lively as ever.
I laid my plans before Wright, and we set to work. We raised the flooring, took all the ballast out of the yacht and laid it on a raft which happened to be alongside of us. This laborious and very dirty task over, we pumped, baled, and mopped until nearly all the water was out of the hold, and then sure enough the cause of all the mischief was revealed at last. From a hole in the middle of the keelson forward there spouted up a small but constant jet of water. It was not strange that we had not discovered this when we prosecuted our minute examinations of the outside of the vessel; for this hole — no doubt intended for a bolt which some knavish Hammersmith carpenter had omitted to drive in — pierced the false keel, and was, therefore, invisible from without. A wooden plug soon stopped the leak, and we were contented with our day's work. The pump had a much easier time of it after this.
Of my two henpecked friends the publican was the most so, but he found an excellent excuse for neglecting the company of his spouse for that of the English yachtsman. He had contracted to coal a coasting steamer which was being expected in port at any moment during our stay, and which never turned up after all. He brought the coals on an old lighter of his own and moored her close to us. The leaking of the Falcon at her worst was nothing to the leaking of this lighter. She would have gone down in half an hour if left alone, so two of his men were constantly pumping her out, while he sat on the Falcon's deck and saw that they did their work properly.
On the 27th the glass rose and the weather showed signs of improving. It was hardly good enough yet to venture out to sea, but I bethought myself of sailing across the comparatively sheltered bay to the old Hanoverian city of Emden, about twelve miles distant. I suggested to the publican that he should come with us. He was delighted at the prospect.
"But I must go and spin some yarn to my wife," he explained. "You come with me. She won't raise objections if you are present."
So I accompanied the poor wretch to his house. His wife, not a sweet-tempered woman, frowned savagely at me when she perceived me.
"My angel," he said, "I am to pilot this English captain to Emden, and I have to call on Herr Smit, the wine merchant there, and bargain with him for some more of that excellent kirschwasser of his."
I don't suppose she believed a word he said; but after a little grumbling in guttural Dutch she let him go. Then an animated discussion ensued, he imploring, she refusing, some favour. I made out that he was asking her to give him some pocket-money to spend on the journey, but he did not succeed in getting anything out of his better-half. "While I call her out of the way you take some money out of the till," he said to me in English. But I dreaded the consequences of discovery, and refused to help him.
Fearing lest his men should neglect the pump while he was away, he proceeded to caulk the lighter before starting, in an original manner. The men held his feet while he hung over the side and thrust handfuls of coal into the seams. To my surprise he succeeded in almost completely stopping the inflow of water.
It was still early morning when we got under way. We sailed across the shallow flats and opened out the great circular pool of the Dollart; and now we had to pick our way from beacon to beacon carefully, for the navigation is encumbered by great sand-banks which dry at low tide. The Dollart is a piece of water one hundred and twenty square miles in extent, produced by a terrible inundation in the thirteenth century. We were sailing over the buried towns and villages of what was once a fertile plain.
A canal rather more than a mile in length connects Emden with the Dollart. We had to bring up at the mouth of the canal to report ourselves at the custom-house. This was my first visit to Germany, and I had heard so much of German officialism that I dreaded this experience. But I found these officers exceedingly pleasant and polite. It was their duty to search our vessel and put our stores under seal before allowing us to proceed up the canal. Hearing that I proposed to return to Delfzyl that evening, they advised me to leave the yacht with them and ascend the canal in the dinghy, thereby saving myself the above formalities. We accordingly moored the Falcon in front of the customhouse and sailed in the boat to the old city, whose steeples and steep red roofs were visible ahead of us.
For the first time in my life I stepped ashore on the Fatherland, but the first sight that met my eyes called up strange memories. A company of Prussian infantry was marching by the quay where we landed. I had seen plenty of those uniforms seventeen years before in sunny France.
I was delighted with Emden. It is possibly more like a Dutch than a German town, but it does not possess the more objectionable Dutch characteristics. True it is surrounded by huge dykes and intersected by many canals — for East Friesland, of which it is the capital, is as flat and watery a region as any portion of Holland — but there was a refreshing untidiness and dirtiness that told me I was indeed in a new country untrammelled by the tyranny of Dutch cleanliness. The canal banks were ragged and unkempt, green alders and rank weeds had been allowed to grow here and there in the crannies of the old walls, the ancient gabled houses that overhung the water were rickety and agreeably slovenly. How dreadful all this must appear to a Dutch eye! I even saw a spider — that creature so loathsome to the Dutch — hanging unmolested from the great oak beam of one antique tavern we visited.
There is much to see in this picturesque medieval town. We visited the Rathaus, a grand building three hundred years old, which contains an interesting collection of antique weapons and armour, mostly relics of the Thirty Years' War. The suits of armour contain automatic wooden warriors with the most grotesque faces, who, when the grim old lady who is custodian of the museum pulls the strings, commence to blow discordant trumpets, beat drums, brandish battle-axes, and lunge with pike and sword in a manner my companion thought very imposing. A collection of more modern arms has been recently added to these — a quantity of chassepots, standards bearing the imperial eagles of France, mitrailleuses, and other trophies of Germany's greatest war.
On our return to the Falcon we found that Wright had prepared an excellent dinner for us. In the evening we beat back to Delfzyl across a very choppy sea, for the wind had veered to the north-west.
On the 28th of June I turned out at daybreak and found that a fresh north-north-west wind was driving heavy rain-clouds across the North Sea. It looked dirty; but I had come to despair of fine weather, so I decided to push on somewhere.
My chart showed me that I should find no harbour into which I could run for shelter between the Ems and the Eider, unless I went considerably out of my way up one of the rivers. Up to the mouth of the Jade, the East Frisian islands border the mainland; but the channels inside the islands cannot be navigated with safety by a stranger. In many places these channels are left quite dry by the falling tide, so that a man can walk dry-shod from the islands to the Hanoverian coast.
But as my chart indicated a well-buoyed route as far as the island of Norderney, the most fashionable of German watering-places, I made for this place, with the intention of bringing up there for the night should the weather continue to look unfavourable.
We got under way at half-past six and tacked down the eastern Ems, carefully picking up buoy after buoy, and sounding with boat-hook when we approached the shoals, for the Falcon would probably have broken up had she gone aground with the sea that was running. At last, though surrounded by sand-banks, we were out of sight of land, and the thick rain made it difficult for us to distinguish the buoys, which are placed at intervals of about a mile. At midday, it being about high water, we saw a street of booms stretching away on our starboard hand. I took it for granted that this must mark the Bants Balg, a channel that crosses the Koper sands and leads to Norderney. We accordingly left the Ems, and now, having the wind right aft, ran at a good speed, keeping close to the booms, and feeling very uncertain as to where we were going. The water shoaled till we had only four feet under us in the middle of the channel, and the sands were showing in patches on either side of us; but of land there was still no sign. We were now luckily in perfectly smooth water, else we should have felt somewhat anxious. The tide was evidently falling, and it seemed as if we should soon be left high and dry in the middle of this sandy wilderness; but to our relief we saw a native flat-bottomed coaster lying at anchor some way ahead. We ran down to her and let go our anchor close to her, in three feet of water.
In half an hour the water left us lying on the hard sand, and we could have walked, had we known how to avoid the quicksands, either to the island of Juist or to the mainland. The skipper of the coaster spoke English. He told us that this was an excellent place to bring up in during low water, and that a gale of wind could not hurt us.
I was anxious to ascertain whether I was in the right channel, but, not wishing to display my ignorance of my whereabouts, I obtained the information indirectly.
"Where are you bound for, skipper?" I asked.
"For Norderney, captain."
It was as I had hoped, and, as I saw that the channel was not very distinctly marked farther on, I determined to let my friend the coaster get ahead of me and thus serve as my pilot.
The atmosphere had been thick all the morning, but now it cleared somewhat, and out of a rift in the black rain-clouds the sun shone out feebly for a short space, revealing to us the strange nature of the place we were in. All round us vast mud-banks and dreary sands stretched for leagues, broken only by narrow creeks and pools of water, which, to judge from the numerous whiskered faces that were ever and anon rising above the surface, must have been alive with seals. On our right, appearing like a low black line, was the dyke that protected the land of Hanover. And ahead of us, some seven miles away, gleamed the yellow sand-dunes of Norderney, above which towered a great lighthouse two hundred feet in height, a most important landmark to vessels that approach this perilous coast. To the left of us loomed dimly the shores of the island of Juist, while between Juist and Norderney there glittered a bright white line — the foam of the open North Sea.
The aspect of these waste flat lands ever contending with the stormy seas was inexpressibly melancholy. The only sounds were the distant roar of waves and the wild cries of innumerable sea-birds that were searching for fish on the wet sands. But we were able to see all this only for a few minutes; then the blue rift in the clouds closed again, and the falling rain soon obscured the distance in universal grey.
At three o'clock the tide had risen sufficiently to float us, so we got up anchor and sailed on again. The coaster, whose draught was heavier than ours, did not get under way for some time afterwards. After having proceeded about a mile we came to a portion of the channel which was not indicated by booms, and, as we did not know the landmarks, we soon lost our road and ran hard aground.
"The tide's making fast, and we'll soon be off again," I said to Wright, "but we'll wait now until the schuyt overtakes us. We will let her show us the way."
When the Dutchman came up we allowed him to pass us, and, as we could outsail him easily, we triced up our tack and stowed the mizen so as to let him keep the lead. It was lucky that we did this, for we had now to cross the opening between the two islands and were exposed to the sea that was rolling in from the ocean. It rained and blew harder than ever, and we were evidently in for another dirty night. I came to the conclusion that it would have been difficult for a stranger to have picked his way across these banks in such weather.
We took short tacks between shoals on which a nasty sea was breaking. Our consort kept his boat-hook sounding all the time, and went about as soon as he found himself in eight feet of water. We followed his example. The old skipper knew what he was about:as soon as he calculated that the tide had risen high enough, he left the circuitous channel, and, bearing away, steered a straight course across the now covered sands to Norderney light. We understood the meaning of this change of course on his part, and, thinking that we could now dispense with his pilotage, we basely decided to desert him; so, hauling down our tack, we soon left him far astern. The wind was now on our quarter and we rushed along, wallowing in the steep beam seas with only six feet of water under our keel.
At last we were under the lee of the island and in smooth water, and at 6 p.m. we rounded the pier into a broad, shallow bay, where we brought up among a crowd of small craft. The night was a wild one, and the cold wind howled across the dreary dunes. We were glad to be in so snug a harbour and we enjoyed our dinner and grog and pipe afterwards, and we turned in with a comfortable sense of security which seemed all the sweeter when we thought of what it was like outside.
We had not yet done with our ill-luck, for we were weather bound here for three days. We were lying at the very edge of the channel, which is so steep that though our anchor was in only five feet of water there were five fathoms under the yacht's keel.
The next morning was bleak and windy. I looked round me and saw that the island was composed of serrated sand-hills, which looked like mountains after the low countries I had left, and the only vegetation on them was the wiry sea-grass. A few years back the population of this bleak spot consisted of two or three hundred fishermen; and the only buildings save their huts were the lighthouse, the life-boat station, and the ice signal which informs vessels at sea whether the rivers and channels of the coast are free or blocked with ice. Every island and promontory of the main possesses one of these ice-signals, which made us realize that we had been travelling north into inclement climates.
But the desolate little island has now become Germany's principal watering-place, and as many as fifteen thousand people have visited it in one summer. It has been well chosen as a holiday resort, for the climate is as healthy and bracing as any in the world; the keen fresh wind of the North Sea is ever sweeping over these barren sand-hills; appetites that have flagged in the cities become voracious in Norderney, and dyspepsia vanishes. In accordance with the new system of treating consumption, the German doctors send their patients who have weak chests to pass the winter here.
I close-reefed the dinghy's sail and steered for the end of the long pier that has been built across the sands and shoals to the edge of the deep water. From the end of the pier a walk of nearly a mile brought me to the bathing village where I had been informed that I should find cafés, casinos, theatres, and all the fun of Trouville or Dieppe. I had been looking forward to a little luxury and dissipation here after my late simple life, but I was to be sadly disappointed. I found myself in a town that was evidently intended exclusively for holiday folk. Every building that was not a café, hotel, or music-hall was a lodging-house. I strolled through the streets; some were of deep, loose sand, some were paved with brick, but all consisted of little wooden houses with red roofs and gaily-painted verandahs, in which stood tables and chairs after the fashion of a café, and outside each was a board bearing the inscription "LOGIS." There was unlimited accommodation — everyone let lodgings — but where were the lodgers? There were many places of amusement and signs of revelry, but where were the revellers? In the course of my walk I only came across a few fishwives and bare-footed children, who gazed at me curiously as I passed.
It was possible that I had turned out at too early an hour; the fashionable visitors of whom I had heard so much might be still in bed. So I lunched on board and then returned to the town, but was dismayed to find the streets as empty as before. I now became depressed and began to dislike Norderney intensely. It seemed a ghastly thing to come across a city of concert-halls and spacious cafés — a city that had evidently been dedicated to luxury and pleasure — thus lying silent, deserted, and empty under the stormy sky, even as if some plague had ravaged it. Trouville is a dismal place in mid-winter, but it is cheerful to Norderney at the end of June. On this cold coast the bathing season is not so early as it is with us, and this year the summer weather was exceptionally late in coming, therefore few visitors had yet arrived. I entered the principal café and made a noise to attract the waiters, but no one came to me, so I got disgusted with the queen of German watering-places, in comparison with which the dead cities of the Zuider Zee are very much alive, and left its desolate streets to explore the sand-hills that surround it.
I reached the summit of one of the highest dunes and commanded a view of the whole island. It appeared to be very barren; even the tough sea-grass could only take root here and there. Magnificent sands, that doubtlessly serve as playground to thousands of German children in the later summer, stretched far out from the north of the town, and beyond these were the white-capped waves of the North Sea. The miles of desert sands and the stormy ocean looked bleak under the leaden sky; but after all, it was a more cheerful scene than the deserted pleasure-town, with its suggestion of impossible dissipation.
The following day, July the 1st, was cold and squally, and we could hear the breakers thundering as loudly as ever beyond the sand-hills. I did not go on shore this day, but cruised in the dinghy under the lee of the island. I now observed that Norderney was making some attempts to wake up for the season. Two passenger steamers touched at the pier and landed half a dozen people. A long string of cabs was drawn up at the pier-end to convey the visitors to the town; the day's business amounted to about one fare to four cabmen.
On Saturday, the 2nd of July, I awoke early and immediately felt that a change had come to the weather. The sun was shining brightly into the cabin and it was quite warm. A big bluebottle was buzzing round my head, and I welcomed him as a harbinger of summer. I jumped on deck and looked round. I found to my delight that the wind was in the right direction, west by south, and all seemed to favour our departure, except the barometer, which I saw was falling. Had our luck indeed changed at last, and were we to fetch the mouth of the Eider this day, and so have done with this detestable North Sea?
As it would not be high water till nearly nine o'clock, I went on shore and ascended the sand-hills to the storm-signal station, so as to see how our course lay through the sand-banks that encumber the navigation of the channel between Juist and Norderney. The sea was beautifully calm and blue. I could distinguish the white-and-red beacons that mark the passage across the bar; and the broken water showed me where the shoals were situated. I saw that the indications on my chart were entirely misleading, as I had anticipated; for the sands on this coast are constantly shifting, so that a stranger can place no reliance on the recorded bearings and soundings.
After my recent experiences of the climate, I somewhat mistrusted so glorious a morning and scarcely dared hope that we were to sail at last. I returned on board; we ate our breakfast; and then, even as we were getting all ready for sea, a sudden change came on the scene. First we perceived black clouds rising rapidly above the dunes, then round rushed the wind in a trice to its old quarter, north-west, coming with a violent squall. In almost less time than it takes to describe it, summer had given place to winter again and the treacherous wind howled over the sea, which, unruffled and blue a moment before, now tumbled in dark waves capped with white foam.
We reviled our ill-luck and despaired of finding summer in these latitudes; but the weather cannot always be vile, even on the coast of Friesland, and late in the afternoon it began to fine down. I turned out several times during the night to inspect the sky. It looked well, but the glass was still falling. At sunrise a light south-west wind sprang up, and at high water, half-past nine, we hoisted our canvas and put to sea, determined to get to some new port for a change, even if we did not succeed in at once reaching the Eider, which was still upwards of eighty miles distant.
We sailed round the west side of the island, crossed the bar, and now, having the wind almost right aft, we set our square-sail and steered eastward along the sandy dunes. But our progress was very slow. We seemed to have reached a climate of extremes only, and the cold, stormy weather had suddenly given place to a sultry calm. At times the wind fell away altogether and we drifted on with the tide, our sails flapping idly. There was not a cloud in the sky, but we did not trust this fair appearance. Such intense heat was likely to be succeeded by strong wind; the glass was steadily falling, and a long swell was rolling in from the north, the usual forerunner of a gale from that quarter. We had so far been treated in so treacherous a manner by the North Sea that it had established a sort of funk in us, and we were always dreading bad weather, not, as it turned out, without good reason.
Other ominous signs were not wanting. Large shoals of porpoises were blowing and gambolling round us in a way the mariner dislikes, and the heated shore quivered in mirage; the glaring sand-hills, bare save for the bluish sea-grass which grew scantily here and there, looked hot and arid as the coast of Africa. There were no signs of life on shore, and the only sounds were the melancholy and ox-like bellowing of the whistle buoy at the end of the bar and the murmuring of the waves breaking on the beach.
At dinner-time we discovered that the water we had taken on board at Delfzyl was commencing to stink — Dutch water is usually full of impurities and will not keep long — so, not wishing to add typhoid to our other grievances, we condemned the water to be used for tea and coffee only, while we drank soda-water, of which I had laid in a small store in view of the probable sea-sickness of some friends who were to have sailed down the Thames with us.
At four in the afternoon we were still off the centre of the island, having only made six miles in seven hours. We now found that the tide was setting us back to whence we had come, so we took to the sweeps, pulled to the shore until we reached the three-fathom soundings and let go our anchor. At six o'clock a light northerly wind sprang up — a direction that made us suspect mischief—and we got under weigh again. Cheating the tide by keeping as near as possible to the shore, we contrived to sail by Norderney at last, and we came abreast of the next of these desolate Frisian islands, Baltrum.
At eight the wind once more died away, and our lead, which we used as a ground log, showed us that the tide was sweeping us towards the shoals of the Accumer Ee; so we came to an anchor two miles from the shore, off the Baltrum life-boat station. The sun set in a red haze that was reflected on the sand-hills, making them appear strangely beautiful. Thousands of black duck and porpoises were around us, and we saw many seals; but as there was nothing good to eat among them we spared these creatures and did not bring the gun on deck.
From our anchorage we could see the islands of Norderney, Baltrum, and Langeoog. These Frisian islands have queer names; the others are called Schiermonnikoog, Bosch, Rottum, Spiekeroog, and Wangeroog, from which one can form an idea of what an elegant dialect the old Frisian is. These islands are all much alike, sandy, barren, and surrounded by dangerous shoals. Each has its life-boat station — the life-boats have plenty to do on this coast — and each has its gigantic beacon of a peculiar form, so that the mariner far out to sea can distinguish one island from another.
We kept watch and watch during the night, for I wished to get away as soon as there was any wind. We did not feel secure at this exposed anchorage. If it should come on to blow again from the northwest, as the falling glass foretold, we would be on a lee-shore with no port near at hand to which we could run; for, as I have before said, the channels between the islands cannot be safely attempted by a stranger in broad daylight, and at night it would be impossible to find one's way in. Wright took the first watch, and I relieved him at midnight. At 3 a.m. a light breeze came up from the south, so I awoke my man and we got under way again.
This day, July 4th, was much like the previous one, calm, sultry, and cloudless. We crept by Langeoog and Spiekeroog, and at eight o'clock we saw looming through the heat haze right ahead of us what first appeared to be a ship, but soon proved to be the lofty steeple of a church. This was all that was visible of thc distant shore, and we knew that it was upon the island of Wangeroog, the most eastern of the group. Thc wind now headed us but we tacked slowly on until the tide turned and obliged us to let go our anchor. It then became quite calm. At this rate the voyage promised to be a prolonged one, but the glass was still steadily falling, so I knew that we should have more wind than we wanted later on.
The water hereabouts was very clear, and as we lay at anchor we saw several large skate swimming beneath us. We were anxious to secure some of these for dinner, but had no lines on board, and an attempt to harpoon them proved futile, as might have been expected. But the multitudes of sea-fowl were evidently having an excellent morning's sport among the fishes.
At two o'clock there was the faintest possible northeast wind, so we got up anchor and proceeded. The glass had now gone down another half inch since the morning, so it was certain that we should soon have a blow. I therefore consulted my chart with the view of finding some sheltered anchorage which I could make before nightfall. Under the circumstances I did not wish to remain another night at sea. We were near the great bay formed by the estuaries of the Jade and Weser; but there are no harbours on these broad rivers until either Wilhelmshaven or Bremen is reached, and both these places were far out of our course. Howcver, my chart showed me that the channel inside the islands communicates with the mouth of the Jade close to the east end of Wangeroog by a creek called the Blaue Balge. If I could find my way into this creek I could lie there safely for the night, under the lee of the island, and sail on the next morning, should the weather be propitious. It was worth trying.
We passed Wangeroog and entered the great bay; with the exception of the small sandy island behind us no land was visible, but buoys and beacons were everywhere round us indicating the passages among the labyrinthine sand-banks that here dry for several hundreds of square miles at low water. We made for the buoys that show the entrance to the Jade. The Germans have an excellent system of buoyage, so that it is impossible for the mariner to mistake his whereabouts. On entering a channel from the sea all the buoys on the starboard side are marked with consecutive letters of the alphabet, all those on the port hand with figures. At sunset we came to the buoy marked E, and it was opposite this, according to my chart, that the Blaue Balge joined the Jade.
Following the directions of the chart I now left the deep river and sailed boldly in towards the creek. But we soon found ourselves in a very unpleasant position. Sounding as we went, we could discover no trace of the channel. The water shoaled rapidly, and we perceived that we were being swept by a furious cross-current, broadside on, towards the shallows. The water was tumbling in races and overfalls all round us. We should have needed half a gale of wind to stem such a tide, and it was almost calm; so the only thing to be done was to hurriedly let go our anchor before we were driven aground, and wait for high water.
These were spring tides, and I do not remember to have ever experienced before so rapid a current, even in the river Seine, and it is bad enough there. The yacht rolled about violently to her anchor, while the water foamed and hissed and whirled by us in a way that almost made one feel dizzy to contemplate. Had our anchor dragged, it is very probable that the Falcon would have been lost.
The glass was still falling, and at ten o'clock a violent thunderstorm broke over us accompanied by vivid forked lightning and a tropical downpour of rain. The wind now freshened up and the sky had a very wild appearance. I was anxious to get away from our exposed position, so at midnight, it being high water, we weighed anchor and once more attempted to enter the Blaue Balge. The chart told me that there was a depth of five fathoms in this channel at low water; but as I sailed on, the water gradually shoaled until there were only two fathoms under us. There was evidently something wrong somewhere. We could distinguish, about a mile ahead of us, the riding lights of two small craft that were brought up snugly in the Balge under the lee of Wangeroog.
We envied them their security and would have much liked to have been lying alongside of them. But the water shoaled until we only had four feet, so, not daring to run on farther, we put the yacht's head round, and, much disappointed, beat out again towards the deeper water within the Jade buoys. I afterwards discovered that my chart was entirely wrong, that the creek had long since shifted its position, and that the bearings I had followed would have taken me on to the sands, where the yacht would most probably have broken up. This was a lesson to me to avoid the swatch-ways and shallow channels, and trust only to the main waterways frequented by large vessels, and therefore well buoyed. It does not do to play tricks with such a coast as this.