CHAPTER III
ACROSS THE NORTH SEA
THE harbour was crowded with fine yachts that had come in for the next day's (Whit Monday) regatta; so that dull and somewhat disagreeable place, Harwich, was more lively and attractive than usual.
My next port was to be Rotterdam; but on Tuesday a strong east-north-east wind was blowing, which put an attempt to cross the North Sea quite out of the question, so I determined to employ the time until a fair wind should spring up in again tackling that incorrigible leak. Wright told me that he knew of a good shore at Mistley whereon to beach a vessel, and that there we could ourselves examine the yacht at leisure and not be overmuch disturbed by the usual sage advice or — if you don't give him beer — would-be witty jeers of the long-shore loafer.
So on Whit Tuesday we ran up the pretty river Stour and put the yacht ashore at the top of highwater. The spot we selected was a short distance below Mistley. There were no houses very near; but a steep green bank of trees, ferns, and bushes sloped almost to the water's edge.
As we did not propose to commence operations until the following day, I set out to explore the neighbourhood, and I soon found that I had done right in leaving Harwich, a place with all the disadvantages and none of the advantages of a town, for this pleasant countryside. There is plenty of picturesque scenery about here, as the artists have long since discovered; and who could fail to be charmed with such jolly old-fashioned little towns as Mistley and its neighbour Manningtree? The author of Our Village would have loved to describe the life in these quiet places.
The two towns are joined by a road about a mile in length which follows the banks of the river. At highwater the Stour presents the appearance of an extensive lake, and at low-water — well, the least said about it the better, more than that on the broad muddy waste then disclosed may be gathered winkles, which, say the Mistley folk, are well known to be the best-flavoured in all England.
Mistley and Manningtree were well-to-do places in the old times. Important markets were held here, and the fine old inns, the "Thorn" for example, are relics of the days of posting. Formerly the river was crowded with shipping, now only an occasional barge ascends the winding Stour, and even yachts are rarely seen in these deserted harbours. It is, of course, the old story again. The railway has taken away the trade, the busy markets are held no more, and these towns are even as those dead cities of the Zuider Zee which I was soon to visit. Fine houses, tenantless and falling to ruins, are frequent in Manningtree High Street, and the old shops seem far too big for the business now carried on in them. The inhabitants themselves are old-fashioned in their habits, the energy and bustle of modern commerce are unknown to them, they take life in an easy way, though it must be confessed that no less than three lawyers extract a living out of Manningtree.
Bricks and beer are the principal productions of Manningtree and Mistley.
On the excellence of the beer I am qualified to give an opinion, for I passed a portion of the evening in the snug parlour of the "Packet Inn," where some of the elders of the town were hobnobbing over their tankards and churchwardens, and carrying on a pleasant gossip on sport, the prospects of the Thistle, the coming Jubilee, the Manchester cup, the cricket-club, and, of course, the local scandal, which seemed in some way to mix up with all the other topics of conversation and lend a piquant flavour to them.
I was awakened at a very early hour the following morning by tumbling out of my berth upon the floor. I rubbed my eyes, looked round, and perceived the cause. The ebb tide had left us high and dry, and the yacht was lying on her side at a very steep angle, so steep that it was impossible for anyone not constructed after the fashion of a fly to remain on my bunk.
I looked towards Wright; he was still sleeping soundly, for his bunk was on the other, and so lower, side of the vessel. As the means of sleeping comfortably had been taken away from myself, I naturally felt much aggrieved that he should still be able to enjoy his slumbers, and I was on the point of waking him with a "Now, Wright, it's low water; let's have coffee and then to the leak," when, with an exclamation of consternation, he started up from his bunk with as much suddenness as I had tumbled out of mine. The reason was soon apparent. The water in the vessel — and there was plenty of it — had, of course, settled on his side, and was pouring over his blanket in a considerable stream, through the seams of the panelling.
As both our beds were now impracticable, one being perpendicular and the other a small pond, we turned out; and after that matutinal cup of coffee which everyone who goes to sea indulges in, we proceeded to wade through the mud round our vessel with bare feet, and inspect minutely every seam and nailhole, in search of the invisible leak. We discovered several places in her skin through which we thought that the water might possibly find admittance, and these we stopped with white cotton and putty, using pen-knives for caulking tools. We worked hard at low water for two days under a steady downpour of cold rain. The natives discovered our whereabouts, and several barge skippers and others stood round and criticized our work, but none of them could suggest any better measures than those we were taking.
On Saturday, the 4th of June, we had completed our work, so at high water we took the Falcon out into the mid-river and anchored there. At noon we pumped her quite dry, then we went on shore, and at three returned on board, in fear and trembling, to discover what had been the result of our labours.
I went into the cabin, pulled up one of the floorboards, and looked into the hold.
"Well, does she make any water now, sir?" inquired Wright anxiously from the deck.
"Water! If anything, she is making it faster than ever."
So we had again failed utterly in our attack on the mysterious leak. We were very disgusted, and saw that we should have to trouble our heads no more about it, but sail away, leak and all. I knew that, though very uncomfortable, it was not dangerous. I had set my mind on a cruise in the Baltic, and it would have required a more serious obstacle than this to prevent me carrying out my design. Wright was of the same opinion and as obstinate as myself, but the barge skippers shook their heads when they heard where we were bound for. "Don't ye go, Jack," said one old friend of my man's; "ye'll never cross the North Sea in that little craft."
And now, after a spell of dirty weather, the glass began to rise. On turning out on the morning of the 6th of June we saw that a moderate wind was blowing from the south-west.
"The very breeze to carry us to Rotterdam, Wright," I cried. "I'll go on shore and find what the weather forecast in the papers is. If it's a good one, we'll sail down to Harwich this afternoon and cross the North Sea to-night."
The papers informed us that moderate south-west winds might be expected in the North Sea, but that the south cone was hoisted in Ireland.
"Which means that we must get across to Rotterdam before the bad weather comes over here," I said.
"It looks like a slant at last. Perhaps our luck has changed," remarked Wright, looking round at the sky with a hopeful expression.
We completed our provisioning by filling two large stone bottles with the excellent beer of Manningtree, and then ran down the Stour to Harwich before a spanking southerly breeze in about an hour. We passed the pier at 2 p.m., and having tacked out of the harbour, were soon tumbling about in the very choppy and uncomfortable sea which is so frequently met with off Harwich. The approaches to this port are known as the Pitching-Ground, the Rolling-Ground, and the Rough Channel, all three doing their very best to deserve their appellation, to which fact many a pale excursionist can testify.
When we were yet some distance from the Cork lightship a change came over the weather, the sky became overcast and wild in appearance, the wind freshened, and we seemed to be in for a strong blow.
We liked the look of things so little that at last, after some hesitation, we determined to return to Harwich for shelter. It always goes much against the grain to have to run back to a port one has just sailed from, and this was the only occasion on which we had to perform this manoeuvre during our cruise.
Having let go the anchor, I sailed on shore in the dinghy and landed at Harwich pier. Here ancient mariners who had been watching the yacht informed us that we had acted rightly in running home again, for very bad weather was coming. Said the coxswain of the life-boat to me: "A young chap belonging here, who is on board a barge bound up, wired to-day from Shields, 'barge detained by heavy gales,' so you know what to expect."
But my glass was not falling, and in spite of the prognostications of the ancient mariners — landsmen place too much reliance in them — I decided to see what the night should bring forth, and, if things looked no worse, to sail on the morrow.
Then I remembered having been told by someone that the Meteorological Office would, if applied to, telegraph a weather forecast for the sum of one shilling. I had never availed myself of this very useful arrangement before, so bethought myself to test it now.
I telegraphed: "What weather Harwich to Rotterdam to-morrow?" On calling at the telegraph-station in an hour's time, the following reply was handed to me: "Light S.W. breezes, fine sea, nearly smooth."
Then I went on board rejoicing, for I knew — though many an old sailor would ridicule the idea — that the official opinion of the clerk of the weather is more to be relied on than the wisdom of all the ancient mariners in England put together. So full of faith, and knowing that we should now, after our many delays, get away at last, we dined off our beef-steak and onions in a happy frame of mind, and fixed five o'clock the next morning as the time of our departure.
We got under weigh at the appointed hour on the 7th of June, and so far the predictions of the weather prophet seemed to be entirely correct. It was a lovely morning, a moderate south-west wind was blowing, and the sky was almost cloudless. When we had beaten out of the harbour, we were able to set our tanned square-sail, and ran at a fine rate towards the Cork—running is the Falcon's strong point.
We passed the South Ship-Head buoy — marking the edge of that dangerous shoal, lying eight miles off the land, on which so many a vessel has been lost — at eight o'clock, and from this I took my "departure," steering an east by south course.
The distance from the entrance of Harwich harbour to the West Gate is rather over a hundred miles, so there was some chance of making a port before nightfall. The wind gradually freshened as the day advanced, and I observed that the aneroid in the cabin was steadily falling.
At midday I brought up my sextant to shoot the sun and found that we were exactly on our course.
The wind still freshened, and we were rushing through the water faster than ever.
"I don't like the sky now," said Wright; "it looks very wild. It will blow to-night."
"Yes, we must carry on as much as we can, and try to get hold of the land before dark."
"It's a pity we didn't sail last night after all. We should have been in Rotterdam by now," remarked Wright.
I had been saying the same thing to myself, but as we were in the middle of the North Sea by this time, it was clear that we must run on, there could be no turning back now.
A steep high sea was following us, but the boat behaved splendidly. It must indeed be a rough sea before which these sharp-ended life-boats cannot run with safety; they do not easily broach to.
"The weather-prophet is hardly accurate this time. I should hardly call this water almost smooth," I said, as we were looking at a small steamer steering west, and frantically pitching into the seas as she sent showers of water over her bows.
"Nor I, sir. Just look at this roller coming at us now. What a whopper! — over she goes. Well done, little boat! By George, she does behave well in a seaway."
Still the wind freshened, and the sea rose, till at six o'clock we had quite as much of both as we required. It was about this time that we came upon a fleet of Dutch fishermen, great tubby craft with lee-boards, which were rolling in a comfortable, lazy way that gave one the impression of their being quite safe, and very much at home in this sort of water.
We passed close to some of these boats and hailed the men, asking them how far off the land we were. I don't know whether they understood us, but they shrieked back replies which we certainly could not understand, so we ran on eastwards, hoping soon to see some signs of the coast.
It now began to blow so hard that we were compelled to take two reefs in our main-sail — we had taken in our square-sail some time since. To make matters worse, it became very thick; a heavy rain was falling, and there could be no doubt that we were in for a dirty night.
At eight we found ourselves in the midst of steep and dangerous-looking rollers, so we surmised that we were approaching the banks, and were in shallow water. Our lead proved this to be the case. There are few worse coasts than those of Holland; the shores are so low and destitute of landmarks, and have such perilous sands extending far seawards, that the mariner who approaches them in thick weather often has a very anxious time of it.
We saw that it would be exceedingly difficult for us to make a land-fall and distinguish the lights on such a night, so not daring to run in further towards the outlying shoals, we decided to lie to till morning.
With two-reefed main-sail and fore-sail to windward, the little boat behaved wonderfully well. Great seas with breaking crests thundered down upon her one after another, often seeming as if they must inevitably overwhelm us; but the Falcon rose to them all without fuss, with an easy motion as of a boat conscious of her seaworthiness. After we had watched her behaviour for a while, she imparted her confidence to us. We felt that it would need a much worse sea than any we were likely to encounter this night to endanger her. Besides, I still had sufficient faith in the clerk of the weather to believe that nothing very serious in the way of bad weather was coming. I must not forget to give due praise to the little dinghy, who behaved very well; and though much more fussy than the Falcon, she never lost her head.
But there was some danger for us from big steamers on so obscure a night, so we lit our side lights and kept two-hour watches in turns.
No water came over the vessel, but plenty came through her. She leaked terribly, and we were pumping the whole while. Our arms ached for a week after this experience. The night was anything but a pleasant one; it rained, it blew, it was cold, and our position was rather an insecure one.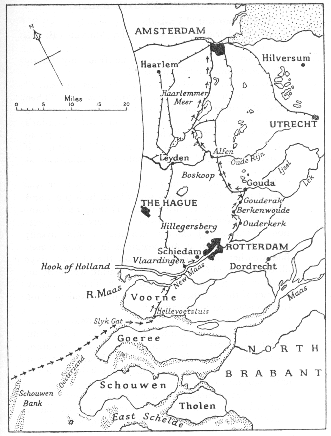 THE NORTH SEA TO THE ZUIDER ZEE
As I kept my watch in dripping oilies, pumping hard with one hand, holding on with the other, and peering through the obscurity on the look-out for those murderous nuisances the screw steamers, I became meditative.
I called to mind a luxurious friend of mine who had once — only once — slept out with me in an open boat on the Medway one chilly spring night. I was sleeping soundly on the bottom boards, when a melancholy voice calling out my name awakened me. I opened my eyes and beheld standing before me in the boat a spectral form shrouded with the white mist of the river. It was my friend, who, unable to sleep, had risen from his couch among the ballast.
"Well, what is it?" I asked.
"My good friend," he said sadly, "do you call this pleasure?"
The wretch had awakened me from my happy slumbers to put me this question!
"And now," I asked myself, "is this pleasure?" My conscience replied in the decided negative. "Then what the dickens am I here for?" and I called to mind many wise saws of the sea, such as: "A sailor's life is a dog's life," "Who'd sell a farm and go to sea?" "What the dickens am I here for?" I asked myself again, seeing that I might be safe and comfortable at home.
Then, glancing round to see that no steamer was near, I dived below, had a tot of rum, lit a pipe, and returned on deck to my duties. Feeling more comfortable, I now found a satisfactory reply to my question. "This is not exactly pleasure," I told myself; "but such a night is an exception in a long cruise. Bad weather now and then makes the pleasant days all the more enjoyable; besides, yachting would be no more exciting than a voyage on a Thames penny steamer if the weather was always fine. And now for that confounded pump again."
So passed the uncomfortable night. About an hour before dawn I turned into my bunk and fell asleep. Shortly afterwards Wright put his head into the cabin. "I can see a light, sir," he said. "I thought it was a steamer's mast-head light at first, but it isn't; it's a flash light on the shore."
I tumbled on deck, and there surely enough to the eastward flashed out at regular intervals a white light, scarcely visible, for it was evidently a long way off.
I timed the rate of its appearance — three quick flashes every half minute — then went below, consulted the chart, and found that this was the Schouwen lightship. We had therefore drifted considerably to the southward of our course during the night, and were much further from the land than I had thought. This lightship is moored on the outlying shoals of the island of Schouwen, and is more than twenty miles from the mouth of the Maas.
As we now knew our position, we let the fore-sheet draw and ran before the heavy seas towards the light. My intention had been to enter the Maas by the usual route, the Hook of Holland canal; but as we were so far to the southward of this, and as I wished to get into smoother water as quickly as possible, I decided to steer for the Slyk Gat to the north of Goeree island and make the harbour of Hellevoetsluis, whence we could reach the Maas by way of the Voorne Canal.
Before reaching the lightship we sailed across the narrow Schouwen bank, where the water shoals suddenly from fourteen to four fathoms. On this we encountered a very troublesome sea, and we were much relieved when we got out of it into deeper water again.
From the lightship our course to Goeree island was fifteen miles, east by south. The day broke cheerlessly. The wind had moderated somewhat, but the sea seemed as high as ever, the sky was full of dark clouds that were travelling at a great speed, and it was still so thick that we could not expect to discover the low coast of Holland until we were close upon it.
We ran on but perceived no buoys nor any sign of the land, and, as I did not know how the tide was setting across the banks, I was soon again rather uncertain as to our whereabouts. Far out to sea from Goeree Island stretches the dangerous Ooster Zand, on which there is only half a fathom of water in places, so we felt our way carefully with the lead. At last the water shoaled to two fathoms, and still there were no landmarks visible. At this juncture it began to rain hard so that we could see only a few yards around us. It was now six o'clock.
As the water was still shoaling I bore away to sea a little, not liking to rush blindly over these dangerous banks in such weather. Suddenly there loomed out of the haze, close to us, a fine-looking Dutch sloop with polished oak sides and lee-boards. She was hove-to under a reefed main-sail, and the pilot flag was flying at her mast-head. Across her sail was inscribed in large black characters GOEREE.
Now it is against my principles to employ a pilot on a small yacht. A vessel drawing so little as three feet ought to find her own way everywhere; but on this occasion I broke my rule, hove-to, and, for the first and only time during this cruise, hoisted my Jack. After all, there was some excuse for taking a pilot under the circumstances. We had been tumbling about for twenty-four hours and were tired, the weather was bad, we were among dangerous shoals, and it was too thick to see the landmarks; but still I felt somewhat ashamed of myself as our signal went up.
The Dutchmen lowered their strong oak dinghy and contrived to get a pilot on board of us very cleverly.
He threw into the cabin that oilskin bundle which invariably represents a pilot's luggage, shook hands with me, and inquired where I wanted to go to
"Hellevoetsluis," I replied.
"Right, captain, I will take you there, and I shan't be long about it with this wind."
This man was a tremendous swell, resplendent in gold lace and brass buttons, and like all Dutch pilots he spoke English, of a sort, fluently. He took the helm and steered the same course we had been following ourselves.
"Capital boat to run before a sea this, captain," he said after a few minutes, "but look, there is Goeree."
As he spoke the rain had ceased, the sky cleared a bit, and there, before us, about a mile away to leeward, suddenly appeared a low, pale-green shore with several hurrying windmills in the background. Had the pilot appeared on the scene but five minutes later than he did we should have known our position and dispensed with his assistance.
We coasted by Goeree in smooth water, and now that we had escaped the dangers of the North Sea the weather began to improve. The storm-clouds disappeared and a bright sunshine lit up the fresh-looking green land.
We shook out our reefs and made good way against a strong tide. I need hardly say that we had to take an occasional jog at the pump, and our pilot observing this, made some rather sarcastic observations on our leaky condition. Presently we could distinguish the opposite coast of the island of Voorne, low also; its vegetation dazzling with the vivid colours of a humid climate. In rainy weather all this bright colouring is drowned in vapour, and the country assumes a most melancholy and sombre aspect; but a glimpse of sunshine will produce so sudden and marvellous a transformation on a Dutch landscape as is not to be witnessed even in our own moderately damp England.
Across the dykes of Voorne we perceived an enormous congregation of windmills.
"What do you have all these windmills for?" asked Wright.
"To pump de water off de land," replied our pilot "if those was not always turning round, us Hollanders would soon all be drowned."
"Well, pilot," I said, "you were very severe just now about our boat leaking, but you must confess that your country leaks harder still. Your windmills are always pumping, just as they do on an old Norwegian timber-vessel."
He chuckled softly, and replied merely: "I think, captain, I will take one little drop more of that rum."
The channel between the islands up which we were sailing now presented the appearance of a broad river. As a matter of fact, it is a river, but what particular river I was quite unable to say off-hand when Wright put the question to me. Even after a study of the chart I was still undecided, for the Rhine, the Maas, the Schelde, and other rivers of the Netherlands got so inextricably mixed up among the labyrinths of channels and canals of Zeeland that the mariner is justly entitled to take his choice. I therefore decided that I should like to be on the Maas, and informed Wright that was the name of the broad stream we were ascending.
The pilot did not contradict me. I suppose the Dutch themselves are far too wise a people to madden themselves with the disentanglement of their puzzling rivers. "Ah, sirs," he exclaimed, "what a pretty country, what a pretty river!"
"Almost as muddy as the Thames, though," remarked Wright, looking down at the brown water.
"Dat is not the fault of de Dutch people," cried the patriotic pilot indignantly; "Dutch people hate dirt. Dis river comes from Germany. After much rain de svater is filthy like dis. Germany, den, sends us all her dirt."
I thought of the first Napoleon's impudent apology for seizing Holland — that it was a country formed artificially of the alluvia of French rivers, and therefore belonged rightfully to France. But I kept this thought to myself; our Dutchman might not have liked it.
After sailing for about two hours under the pilot's charge he brought us alongside the quay of Hellevoetsluis, and for the first time in my life I set foot in Holland.
Hellevoetsluis was once an important fortress and seaport. British tourists of two generations ago knew it well, for the Harwich packet used to call here; but now there is not much life in the little place, and the arrival of a yacht from England seemed to be a sufficiently novel occurrence to attract much attention to us. I jumped on shore, and a polite crowd guided me to the harbour-master's office, where I showed my papers, and paid the pilot his fee — twelve shillings. Then I returned to the yacht and found a great many people, of all ranks, ages, and sexes, gazing at us from the quay, and discussing us in the curiously deliberate and unexcitable Dutch fashion. One who spoke English explained to me the sentiments of his fellows. "These Holland people," he said, "think your boat too little to cross the North Sea. They not like to be passengers of you, not at all, by Jove."
I looked round Hellevoetsluis, which is like every other place in Holland, and I was struck by exactly the same things that first attract the attention of every stranger who lands in this country, and I, no doubt, made exactly the same remarks as every tourist does. I noticed that the crowd looked very much like an English crowd. I observed the clean streets and tidy little houses, the marvellous lock-gates of the canals, of bright oak, varnished and polished with loving care, as if they had been valuable old Chippendale sideboards at least — so different from the dirty tarred locks at home. Then I admired the schuyts and other craft, all of varnished oak to match the locks, with little windows having muslin curtains and flowers in pots, each with a clean family of many generations living on board — reminding one altogether more of life on a Thames house-boat than on a trading-barge. Then I went into a cafe and approved of a glass of beer. But there was nothing very new in all this, and it has been described over and over again.
The wind was still fresh, and blew straight up the Voorne canal, so I thought it best not to waste such an opportunity, but to sail for Rotterdam at once. The following day might bring a head wind, and besides, Hellevoetsluis was not so particularly interesting a place as to make us loth to leave it.
So I again went to the harbour-master's office, showed my register and paid the canal dues, which, as the Falcon is only three tons, amounted to twopence, or some such small sum.
We passed through the lock-gates, and, setting all sail, we ran before the wind up the perfectly straight canal. It was our first experience of a Dutch canal, and so we were excited and interested by the many novel sights; but I found that one soon wearies of the frightful monotony of the Dutch waterways, and after a few days I began to wonder how some yachtsmen wax so enthusiastic over Holland.
However, I thoroughly enjoyed this seven miles' run up the Voorne canal. The smooth water, the sunny sky, and green pastures were very pleasant after the dark and stormy North Sea. The quaint and cumbrous-looking, though handy native craft attracted much of our attention. At first we marvelled at their great apparent speed; but we soon found that there was more brag than real haste about them, and that we were being taken in by noise, for their bluff bows ploughed through the water with all the fuss and fury of a puffing-billy. The crews of these vessels looked at us with evident surprise as we passed. The skippers invariably asked where we were from. When we replied, from London, they as invariably made the same remark—it was an exclamation expressive of astonishment. I imagine from the sound of it that it was somewhat profane, so will not repeat it.
I had heard that on a Dutch canal one can always run full tilt at a bridge, and that the ever-watchful guardian will never fail to open it in time to let a vessel through. I felt rather nervous on trying this experiment at our first bridge. As we approached it, Wright blew the fog-horn lustily, and I ran on in faith. The man in charge of the bridge was sitting in an arm-chair at the door of his neat little cottage, with his back turned to us, smoking, with true Dutch phlegm, a portentous pipe. He made no response to our signal, he did not even turn his head. He smoked on, apparently quite unconscious of our approach. Horrible thought, perhaps he was deaf! With great din of shouting and horn-blowing we rushed on before the strong wind — a smash seemed inevitable — when almost at the last moment this stolid fellow turned round to us, stretched his arms above his head and yawned; then he laid down his precious pipe carefully by his side, and, rising quite leisurely, proceeded to swing the bridge, and we passed through safely.
These bridge guardians on Dutch canals evidently take a pride in running very close shaves. It seems, however, that accidents very seldom occur; but these lifting and swinging bridges are beautifully constructed, and are set in motion with a wonderful ease and quickness.
We passed through the sluice at the end of the canal and were again on a broad tidal water.
"What river is this?" asked Wright.
Now I knew that this channel was undoubtedly one of the branches of the Maas; but having already told Wright that the stream we had left was called the Maas, and not wishing to perplex myself or him with the complicated Dutch river puzzle, I diplomatically bethought myself to give the French equivalent for the Dutch name.
"This is the river Meuse," I replied.
But Wright's ear could not recognize the difference between my French and Dutch accent.
"I thought the other river was called that," he said.
I happened to be looking at the chart at the time, and there saw a capital way of getting out of my difficulty.
"Yes," I said, "but this is called the New Maas." Happily he asked for no further information.
We ascended the river against a strong ebb tide for fifteen miles. We passed the port of Schiedam, and saw the towers of that famous gin-making town about a mile inland. Shortly afterwards we perceived the city of Rotterdam before us, looking imposing with its lofty buildings and its vast quays. The river was crowded with every sort of craft, ranging from stately East Indiamen to tiny fishing-boats.
We took in some of our canvas and sailed slowly on, looking round us for a suitable berth. After passing the public park we opened out a small harbour in which was tightly packed a great number of schuyts and other small coasters. This seemed to be the very place for us, so, lowering our sails, we allowed the yacht to shoot in, and made fast to a smart river-trader, laden with round cheeses, which lay alongside the quay.
On inquiry we found that this harbour was called the Veerhaven. There are many such in water-intersected Rotterdam; but, judging from what I saw, I should recommend this one to all small yachts. It is quieter than most of the havens, and though vessels moving in and out frequently compelled us to let go our warps and shift our berth so as to allow them room to pass, there was none of that fuss, shouting, and ill-temper which would accompany such manoeuvres in a French harbour for instance.
Considering how crowded these Dutch waterways are, it is really astonishing how little a yachtsman cruising on them need fear damage to his vessel. The Dutchmen keep their own craft in such beautiful order that they treat all others with consideration. Though any of these strong oak schuyts could crush a slight yacht without herself feeling it, the Dutch sailor never fails to put out his fenders when there is chance of the slightest contact; even when he is forced to shove off in haste in order to avoid an accident, he is careful to thrust his boat-hook against your rigging or ironwork; he is as kind to your paint and varnish as you could be yourself.
These Hollanders are at home on the water if any people in the world are; and rough as they may be, they treat the boats of their neighbours with all the delicate caution of a china-maniac handling some invaluable old Sèvres vase. These canals would be intolerable to the yachtsman were it not for the skill and care of these honest mariners, and they will get out of one's way so good-humouredly too; one will hear no oaths, perceive no excitement among them, even in moments of serious risk.
It was two o'clock in the afternoon when we reached Rotterdam, so we had been under weigh for thirty-three hours. We not unnaturally felt somewhat tired, and instead of at once going on shore to explore the town I turned into my bunk and slept till six, when I was awakened by the arrival of the harbour-master. This functionary, very polite, and clad in gorgeous uniform, examined my papers, saw that all was right, and informed me that I was at liberty to do what I pleased; so I sallied forth, refreshed by my rest, to "do" Rotterdam.