1998 Lewis Expedition: Scrubber's Cove
Like the Lake District books, Great Northern?is set in a landscape that is based on real geographic elements, in thisinstance from the Lewis area. This page shows 2 of the places that wereprobably inspirations for Scubber's Cove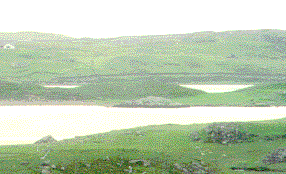 This view, from a window of Uig Lodge, shows the headland used by Ransomefor the illustration "Peggy at the crosstrees" in chapter XV ofGreat Northern?. He must have drawn the illustration from the verywindow we looked out of! Although the size of these 2 bays make them toolarge to be the bays, there are some of the inland topography issimilar to Great Northern? Divers were seen swimming on a loch, inlandfrom the far bay, on an expedition by two of our party.
*
On the last day, just prior to catching the ferry back to Ullapool, someof us made a trip to a cove north of Stornoway, near to places that Ransomeis known to have gone fishing. Port Bun a' Ghlinne has some of the featuresof Scrubber's Cove - two bays separated by a headland, one wider than theother, and steepish cliffs. It is also in the right place, being north ofStornoway ("the harbour") around a long promontory pointing outto sea ("the Head"), behind which the Sea Bear escaped from Jemmerling.However the topography inland from the bays is not the topography of GreatNorthern?. The cliffs on either side are also not as asymmetrical asshown on Mac's chart, being of similar heights each side. It seems likelythat Ransome again used shapes and features from many places to form thesetting for Great Northern?, to make it more interesting for searchers!
Pterodactyl Bay


Scrubber's Cove
The two bays of Port Bun a' Ghlinne are a mirror version of those inthe Great Northern? charts, so that Scrubber's Cove is on the leftand Pterodactyl Bay is on the left (when looking out to sea).
Scrubber's Cove from the headland

The cliffs

A small house just inland

Looking out to sea, "the Head" can just be seen, faintly onthe horizon


In the hopeof finding a "pict house" I ran up to the summit of the headlandabove Scrubber's Cove (we didn't have much time before the ferry left)!Unfortunately the summit was fairly featureless, but I did get this goodview of both bays.
---
Interactive QuickTimeVR panorama of Scrubber'sCove

To interactively view the panorama you may need to download a QuickTimeVR plug-infor your web browser.
---
All images © Copyright 1998 Woll Newall
This page last updated 6-December-1998 by Woll