1998 Lewis Expedition: Castle of the Gaels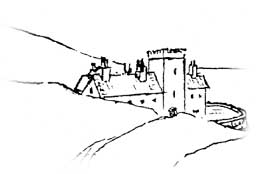 The Castle of the Gaels was based on Uig Lodge,on the west coast of the Isle of Lewis. Ransome stayed there in 1945 and1946 whilst researching Great Northern?.
We were invited there by friends of the present ownersof Uig Lodge, who were staying there during our visit to Lewis.

Views of 'the castle', visible from miles around





The sundial, a mini-castle of its own!


Uig bay fromUig Lodge
Inside the Castle of the Gaels
TARS discussing Ransomish things

Antlers 'bagged' in 1927

Painting of a Ransome-like figure fishing

The marvelous cast-iron staircase

---
All images © Copyright 1998 Woll Newall
This page last updated 30-August-1998 by Woll